GNA Information and Resources
Photo Credit: Laura Wagner
GNA Information and Resources
Introduction
The Good Neighbor Authority (GNA) is an important partnership tool available to the USDA Forest Service and the Bureau of Land Management (BLM) with the intent to increase the pace and scale of forest, rangeland, and watershed restoration across jurisdictional boundaries.
Permanently enacted in the 2014 Farm Bill and amended in the 2018 Omnibus Appropriations and the 2018 Farm Bill, GNA enables States, Counties, and Indian Tribes to act as an agent of the federal agencies to complete authorized restoration services on federal and non-federal lands.
This webpage provides a repository of informational and educational resources about GNA for western state forestry agencies, federal agencies, and partners. 
---
GNA Spotlight - October 2021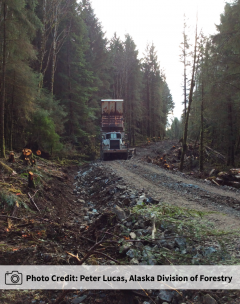 The Vallenar Young-Growth Good Neighbor agreement is the second agreement in Southeast Alaska designed to assist the timber industry in transitioning from old-growth harvesting to young-growth harvests.
The earliest harvested units in Southeast Alaska, harvested in the 1950s, are just now reaching maturity for young-growth harvest. This agreement between the Tongass National Forest and the Alaska Division of Forestry helps the timber industry develop new skills and strategies to adapt to young-growth harvest, reconditions a National Forest System Road, and restores hydrologic function to the Vallenar Creek watershed.
Located on Gravina Island near Ketchikan, the 16-million-board-foot sale combines young-growth timber from the National Forest with a mix of young-growth and old-growth timber from State lands, totaling 481 acres over multiple units.
For more information about this project, contact Jim Eleazer, Alaska Division of Forestry.
---
GNA Information and Resources

CWSF/WFLC Resources
GNA Learning Series - Collection of recordings from the virtual GNA Learning Series, hosted by the Western Forestry Leadership Coalition (WFLC) in Fall 2020. 
Authorizing Language and Relevant Legislation
USDA Forest Service/BLM Implementation Tools and Resources
State Agency Resources
Additional Resources
---
Contact Information and Submitting a Resource
To learn more about CWSF/WFLC GNA involvement, please contact Kelsey Delaney.
If you wish to submit a suggested resource for inclusion on this page, please complete our Google Form.