GNA Information and Resources
Photo Credit: Laura Wagner
GNA Information and Resources
Introduction
The Good Neighbor Authority (GNA) is an important partnership tool available to the USDA Forest Service and the Bureau of Land Management (BLM) with the intent to increase the pace and scale of forest, rangeland, and watershed restoration across jurisdictional boundaries.
Permanently enacted in the 2014 Farm Bill and amended in the 2018 Omnibus Appropriations and the 2018 Farm Bill, GNA enables States, Counties, and Indian Tribes to act as an agent of the federal agencies to complete authorized restoration services on federal and non-federal lands.
This webpage provides a repository of informational and educational resources about GNA for western state forestry agencies, federal agencies, and partners. 
---
GNA Spotlight - September 2022 (Washington)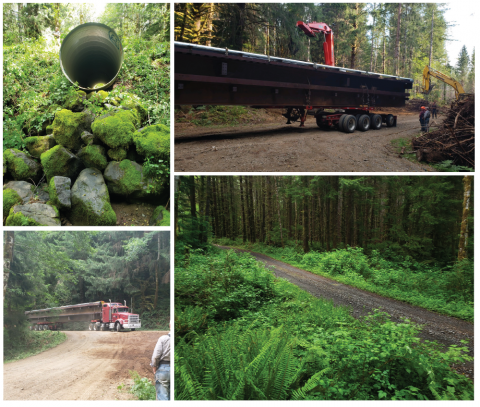 Authored by Trevor McConchie, Federal Lands Assistant Division Manager, Washington Department of Natural Resources 
The Washington Department of Natural Resources (DNR) partnered with the Olympic National Forest (ONF) in 2020 under their existing Forest-wide Restoration GNA Agreement to begin the process of replacing a perched 72" culvert blocking approximately 1 mile of upstream critical salmon habitat. Leveraging state funding, this $300,000 aquatic organism passage project was considered a high-priority for both agencies to meet multiple salmon recovery objectives.
This bridge is part of the 2D Restoration Thin timber sale project, focused on accelerating old-growth stand structure and habitat improvement, and was a collaboration of DNR's Federal Lands and State Uplands engineers working with ONF and USDA Forest Service Region 6 engineers. DNR in-house engineers designed a permanent 70-foot steel bridge to be placed on driven piles for the location using DNR's contracts and internal design processes. The 2D Restoration Thin timber sale generated approximately $800,000 in revenue to be used as part of the project and future terrestrial and aquatic habitat restoration projects. The bridge is planned for installation in summer 2023.
For more information about this project, contact Trevor McConchie.
Photo Credit: Justin Long, Federal Lands Lead Engineer
---
GNA Information and Resources

CWSF/WFLC Resources
GNA Learning Series - Collection of recordings from the virtual GNA Learning Series, hosted by the Western Forestry Leadership Coalition (WFLC) in Fall 2020. 
New! GNA Spotlight - View past project spotlights from western states and regions:  
Authorizing Language and Relevant Legislation
USDA Forest Service/BLM Implementation Tools and Resources
State Agency Resources
Additional Resources
---
Contact Information and Submitting a Resource
To learn more about CWSF/WFLC GNA involvement, please contact Kelsey Delaney.
If you wish to submit a suggested resource for inclusion on this page, please complete our Google Form.