Photo Credit: Jamie Kirby
Tree Huggin' Montana
Guest post from Jamie Kirby with Montana Department of Natural Resources and Conservation in coordination with the Western Urban and Community Forestry Network's #HealthyTreesHealthyLives social media campaign.
Amid a global pandemic, social engagements ground to a screeching halt. Arbor Day celebrations across the state and the nation were canceled, scaled back, or turned virtual. Tree planting events were largely postponed or minimized to maintain physical distancing. Planners scrambled to still honor Arbor Day and to find new ways to appreciate trees.
As schools closed and individual communities dealt with this unprecedented situation, the Montana DNRC Urban Forestry program communicated with tree planting grant recipients and volunteers on options for moving forward. The volunteer base in Montana, as with many others, is primarily composed of retired individuals. After reviewing the risks involved with any in-person events, and considering the age category of most participants, the decision was made to cancel the statewide event planned in Roundup, MT. The Montana Urban and Community Forestry program encouraged other options, including: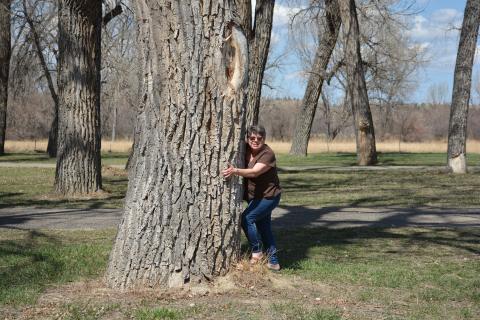 Virtual Arbor Days
Recording of mayor reading proclamation
Social media messages
Rescheduled celebrations and fall tree plantings
Creative ways to celebrate trees
Inspired by efforts such as the Iceland forestry service urging people to hug trees, and the #hugatreeinstead campaigns,[1] Montana took a similar approach. The message from the Governor was to stay safe while still enjoying the outdoors. On Arbor Day, the DNRC posted on social media asking the public to celebrate #arbordayathome and #hugatree.
Communities shared videos, pictures, and links to posts with their special 2020 Arbor Day observance. The DNRC recognized the City of Roundup with a large visible banner displayed on their courthouse lawn and applauded the Mayor's tree hugging picture by sharing the images through social media.
In Montana, where trees greatly outnumber people, the ability to get outdoors and reconnect with nature is a true perk of getting through these times. A tree returns the hug with natural stress reduction, and increasing evidence shows that trees are good for our mental health.