Small efforts can have big impacts on Idaho's urban forests
Photo Credit: M. Perkins
Wednesday, August 24, 2022
Authored by Matthew Perkins, Idaho Department of Lands
August 2022
The Idaho Department of Lands (IDL) Urban & Community Forestry Program (U&CF) supports many efforts across the state that are aimed at helping Idaho communities build stronger more vibrant urban forestry programs. While some of IDL's projects are never highlighted, these smaller events can often have a profound impact on urban forest awareness in the local communities where they take place. This blog post will zoom in from the 30,000 ft view and have a look at some of the local events the IDL U&CF program has been involved in this year.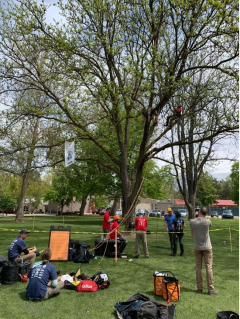 On May 13-14, Boise Parks and Recreation hosted a tree climbing competition administered by the Pacific Northwest Chapter of the International Society of Arboriculture (ISA). The last time an event like this was held in Boise was 2016. The Boise Tree Climbing Competition (BTCC) was held in Julia Davis Park, and climbers from Oregon, Utah, and Idaho showed up to participate.
The Idaho U&CF program manager joined more than 30 volunteers from the city of Boise and the arborist community all over the Treasure and Wood River Valley's to help make the event a success. Check out video highlights from the events. 
A unique aspect of the BTCC was the public tree climb that occurred in conjunction with the event. Canopy Watch International held the second ever public tree climbing event for Idaho.
David Anderson is the founder and Executive Director of the 501(c)(3) nonprofit organization based in Boise, Idaho that organizes guided tree climbs throughout the Pacific Northwest, and tropical forests in Central and South America that get people up into the canopies of large trees with the goal of empowering personal and scientific discovery. View David's TED talk about the Canopy Watch International mission.
In addition to public tree climbs, Canopy Watch also offers full and half day "Canopy Expeditions" that emphasize canopy access and ecology, as well as climber training courses. They also work with universities, field stations, consulting firms, and land management agencies to provide research services that allow for accessing the nests of raptors and the elevated habitats of other birds and mammals to install and monitor cameras or traps.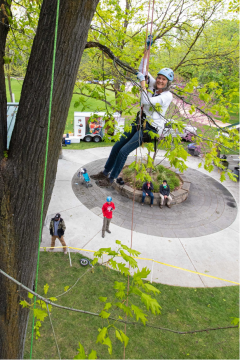 Boise City Councilwoman Elaine Clegg participated in the climbing event at BTCC and had this to say about the experience: "I have always loved trees, but not been up high in one for many years. Being able to get into a tall canopy tree was exhilarating and reinforced my perspective of the importance of these wonderful giants in our midst for the well-being of people who get to live and play among them and for the health of our environment."
Getting city officials up in trees at events like this can have a significant impact on support for local forestry programs. This also marked the first time that Canopy Watch Intl. offered an "All-Abilities" adaptive sports climb.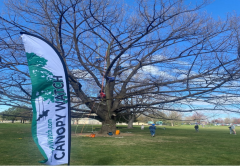 Idaho's first public tree climb was held in Meridian, in April in a prized 46" DBH English oak (Quercus robur) at Settlers Park which is part of the original farmstead located at the site that is now the park. The tree is estimated to have been planted in 1930 and is one of the largest mature trees in the city of Meridian's Park system.
The U&CF Program manager has plans to connect Canopy Watch International to more events all over Idaho. To learn more, visit the Canopy Watch International website.
This spring, the IDL U&CF also teamed up with Vermeer Mountain West and the city of Meridian to bring an exceptional training opportunity to the arborists in the Treasure Valley. The event popularly referred to as "Vermeer Tree School" occurred over two full days and had approximately 20 attendees.
On May 31, Tyler Zuniga from North American Training Solutions demonstrated intermediate climbing techniques and introduced several modern pieces of equipment and gear used for safe tree climbing. On June 1, he taught intermediate rigging solutions and demonstrated concepts such as "Negative Rigging" and "Zip-Lining." These techniques are used for tree pruning and removal in confined spaces and they often employ the use of fiddle blocks, porta wraps, and different slings and pulleys as well as the Great Rigging Control System (GRCS).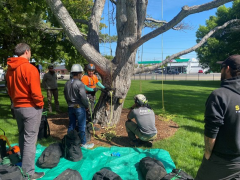 These in-depth, hands-on demonstrations of techniques and gear are rare and hard to come by, usually requiring additional expenses and travel that many arborists cannot afford themselves. Hats off to Vermeer for making this training accessible and thank you to Meridian for providing the space. The IDL U&CF program was happy to help organize, sponsor, and provide refreshments for this event.
Idaho prepares for the inevitable arrival of the Invasive Emerald Ash Borer
On July 11, Oregon Department of Agriculture announced that the invasive pest known as the Emerald Ash Borer (EAB) has been discovered in Forest Grove, Oregon. View the Oregon news release.
The destructive insect has completely devastated ash tree populations all over the Eastern and Midwestern United States. Prior to this discovery in Oregon, it was only thought to have made it as far west as Colorado. IDL's U&CF and Forest Health Programs have been collaborating with Idaho State Department of Agriculture, and USDA Forest Service to put on preparedness workshops throughout Idaho.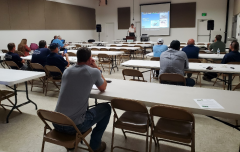 The goal is to help arborists, professional applicators, city foresters, and parks and recreation officials become more familiar with and to learn how to develop a plan for managing and minimizing the damage that is sure to follow the arrival of this invasive and destructive pest.
As part of the effort to help Idaho communities prepare for EAB, the U&CF program manager is developing a "Preparedness and Response Plan Template" that will provide cities with a "fill in the blank" document they can use to kickstart a management plan for their own communities. IDL will be hosting more training workshops to help with awareness across Idaho and promote the use of the Preparedness/Response Template.
For more information on U&CF in Idaho, visit https://www.idl.idaho.gov/about-forestry/urban-and-community-forestry/.
Photo Credit: Cristina Bowerman, David Anderson, M. Perkins, G. Bates