Meet a Forester, Tony Ferguson
Meet a Forester, Tony Ferguson
This month, we are pleased to feature Tony Ferguson, Lab and Station Director of the USDA Forest Service Forest Products Laboratory and Northern Research Station. We invite you to meet Tony!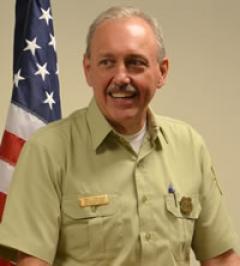 What was your first position in the field of forestry?
My first position in the field of forestry was as the Director for the Northeastern Area, State and Private Forestry. I entered this role in August 2011. The Northeastern Area, now a part of the Eastern Region, was the only stand-alone State and Private Forestry unit in the Forest Service. It covers 20 states plus the District of Columbia in the Northeast and Midwest.
How long have you been in your role?
I have been serving in my current role since January 2016. The Forest Products Laboratory and Northern Research Station are managed by one Director and the headquarters for both units is located in Madison, WI.
What do you enjoy most about being a WFLC member? 
As a leader in a research organization, our scientists are constantly looking for ways to help land managers do their jobs more efficiently and effective. Being a part of WFLC allows for a greater level of interaction with the federal, state, and private landowners/managers throughout the west. Being a member of WFLC opens the door for members to come to me with questions and challenges that our researchers can tackle.
What do you see to be the emerging issues in your region?
The Forest Products Laboratory is the only agency wide research laboratory. We address many issues but are primarily focused on wood utilization and marketing of wood products. We are striving to find ways to add higher value to lower-value wood products and through this approach to help develop more products and markets for wood utilization. With the widespread impacts from invasive species and other disturbances (tornadoes and hurricanes), we are providing research around how to utilize forest materials that otherwise may not be utilized. We are currently focused on utilization of storm and insect impacted forest resources in Cross Laminated Timbers (CLT) applications.  We are also striving to develop new and innovative products utilizing cellulosic nanomaterials. Lower value biomass is a great feedstock for cellulosic nanomaterials and the removal of biomass decreases the intensity of wildland fires on our nation's forests while creating markets for new and innovative products.
What is your favorite outdoor activity?
It is difficult to name just one favorite outdoor activity. I enjoy gardening, landscaping, and spending time in the woods. I own 10 acres and a small pond that keep me busy with many outdoor activities. I also enjoy spending time with my grandchildren and teaching them about the outdoors and fishing.