Meet a Forester, Sylvia Bierman
Meet a Forester, Sylvia Bierman
This month, we are pleased to feature Sylvia Bierman, Director of State & Private Forestry and Tribal Relations with the USDA Forest Service Rocky Mountain Region.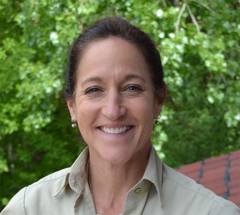 What was your first position in the field of forestry?
I began my career with the USDA Forest Service in 1988 as a Range Technician on the Black Hills National Forest out of Spearfish South Dakota.
How long have you been in your role? 
Permanently since March 2021, however I was the Acting Director June 2019-November 2020. 
What do you enjoy most about being a Western Forestry Leadership Coalition (WFLC) member?
Connecting with the other USFS Regions and State Partners. This is a true opportunity for sharing and learning from each other's experiences. 
What do you see to be the emerging issues in your region?
Increased size and frequency of wildfire is a huge issue across all five states. Collaboration between Federal lands, state lands, and private lands are imperative to a unified approach. 
What is your favorite hobby?
I'm a "covid" baker and soon to be fly fisherwoman.
What is your favorite tree?
There are so many I love…right now I would Ponderosa Pine – there is nothing like the vanilla smell of a big yellow pine!
What is your favorite outdoor activity?
Hiking with Lucy, my four-legged buddy.
What would you do (for a career) if you weren't doing this?
I believe I am right where I am supposed to be!