Meet a Forester, Sherry Hazelhurst
Meet a Forester, Sherry Hazelhurst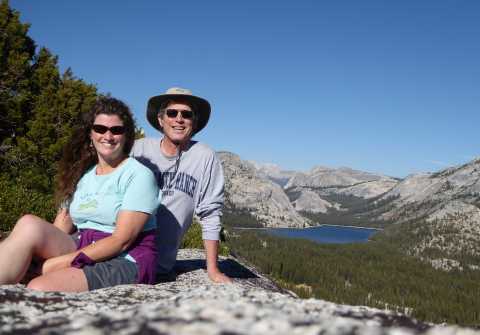 This month, we are pleased to feature Sherry Hazelhurst, Director of State & Private Forestry, USDA Forest Service Pacific Southwest Region (Region 5). 
What was your first position in the field of forestry?
My first position was as a Land Survey Aide on the USFS Lake Tahoe Basin Management Unit. We assessed urban lots for potential government purchase to conserve sensitive forest lands. The next summer I started as a Hydrologic Technician at Lake Tahoe and spent 15 years as a hydrologist working on watershed/fire restoration and water quality at the forest, regional, national and international levels.
How long have you been in your role?
I have been the Region 5 Director for four years.
What do you enjoy most about being involved with WFLC? 
I really appreciate the thoughtful dialogue and collaborative relationships that allow us to work on high-priority, challenging projects that impact our states, islands and nation. I'm so impressed with everyone's passion and creativity when it comes to finding solutions to effectively conserve and manage our Western forests.
What do you see to be the emerging issues in your region?
Our most significant emerging issue is conserving forests across California, Hawaii and the U.S.-Affiliated Pacific Islands by increasing the pace and scale of forest restoration through public and private collaboration. Over 100 million of California's trees have died due to a five-year drought and associated increases in native bark beetle infestations. Many others have been lost to large wildfires. Invasive pests and diseases have killed significant numbers of riparian and oak trees in Southern California, native ʻōhiʻa trees in Hawaii, and coconut trees across several Pacific Islands. All of these forests serve important roles in benefiting people – providing clean water and air, world-class recreation venues, jobs and economic stability for communities, local sources of agroforest foods, rich habitats for diverse plant and animal species, and so much more. Natural resource professionals, communities, elected officials, researchers, businesses, and many other stakeholders are engaging together in new and effective ways as we share our common interest in restoring healthy forests. The Cohesive Strategy and Farm Bill have offered us some helpful new tools, and we're looking toward even more ways to collaborate with those that wish to finance some of this valuable work. With so much interest and energy among this caring constituency, I'm hopeful that the Pacific Southwest Region's forests will thrive to serve this and future generations.   
What is your favorite outdoor activity?
My husband and I met 28 years ago while skiing, and together, we enjoy many outdoor activities. Hiking is probably one of our favorite activities because every trail shares something special, whether it's our first view from majestic peaks or sea anemones swaying with the tide; thundering waterfalls or silence after snow falls; familiar scents of pine, sage or plumeria enhanced by the rain; an unexpected critter scurrying across a rock outcrop or our favorite show of wildflowers proudly displayed on a sunny summer day. It's these everyday gifts from the forest that keep us wandering on trails near and far.