Meet a Forester, Monica Lear
Meet a Forester, Monica Lear
This month, we are pleased to feature Monica Lear, Station Director with the USDA Forest Service Rocky Mountain Research Station. We invite you to meet Monica!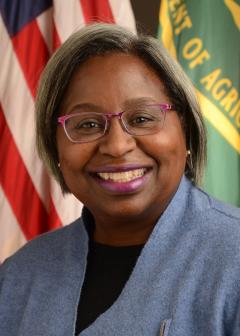 What was your first position in the field of forestry?
I joined the Urban Forestry Administration in Washington, DC in 2007 as the Deputy Associate Director and Deputy State Forester. While the District retains a tiny amount of old growth forest, it is primarily an urban forest. I was appointed State Forester in 2010.
How long have you been in your role?
I started in my role as the acting Research Station Director at the Rocky Mountain Research Station in July 2019 and became permanent in December 2019. My previous positions in the Forest Service were Associate Deputy Chief in Research and Development and Forest Health Protection Director in State and Private Forestry.
What do you enjoy most about being a WFLC member?
I had an introduction to CWSF when I was a State Forester and in my first job in the Forest Service. In my new role, I am enjoying meeting all the members and learning about the issues of state forestry agencies in the West and finding ways to partner with members using research to solve forestry management problems.
What is your favorite hobby? 
I enjoy quilting, cooking, and gardening.
What is your favorite tree? 
It is difficult to pick just one tree so in the northeast, Scarlet Oak (Quercus coccinea), and in the south, bigleaf Magnolia (Magnolia macrophylla), but I have a lot of favorite trees.
What is your favorite outdoor activity?
There are so many opportunities to enjoy the outdoors in the footprint of the research station, and I have been exploring many of those since I moved to Colorado. My favorite activity remains being in a forest hunting for fungi.
What would you do (for a career) if you weren't doing this?  
I would have trained to be a veterinarian.