Meet a Forester, Frank Beum
Meet a Forester, Frank Beum
This month, we are pleased to feature Frank Beum, Regional Forester with the USDA Forest Service Rocky Mountain Region.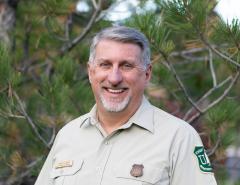 What was your first position in the field of forestry?
I was a seasonal Forestry Technician on a timber stand improvement crew on the Saguache Ranger District, Rio Grande National Forest in 1981 while completing my forestry degree. 
How long have you been in your role?
I have been Regional Forester since April 2021.
What do you enjoy most about being a Western Forestry Leadership Coalition (WFLC) member?
Connecting with State Foresters and other forestry leaders throughout the west to discuss mutual challenges and opportunities.
What do you see to be the emerging issues in your region?
Work environment, especially as it relates to the ongoing COVID pandemic, creating resilient landscapes for wildfire mitigation, and expanding recreation use.
What would you do (for a career) if you weren't doing this? 
I would be an outdoor and fiction writer.