Meet a Forester, Dave Schmid
Meet a Forester, Dave Schmid
This month, we are pleased to feature Dave Schmid, Regional Forester with the USDA Forest Service Alaska Region. We invite you to meet Dave!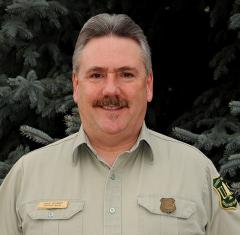 What was your first position in the field of forestry?
I enrolled in a U.S. Youth Conservation Corps (YCC) residential program in Manitowish Waters in Northern Wisconsin when I was 15 years old. I was issued a plumb double-bitted axe to chop down aspen for red pine release and regeneration; I also planted trees and worked on trails. All of the counselors at the camp for the state-run program were from the University of Wisconsin-Stevens Point College of Natural Resources. It was my introduction to forestry and I ended up attending college there as an adult.
How long have you been in your role?
I have been in my current role for 10 months; eight as acting regional forester, and then confirmed as the permanent appointment in December 2018.
What do you enjoy most about being a WFLC member?
I enjoy the great professional and executive-level collaborative work and the collective sharing between states and the Forest Service, allowing leaders to "work in both worlds," on innovative solutions like the Good Neighbor Authority.
What do you see to be the emerging issues in your region?
Emerging issues in the Alaska Region include the Alaska Roadless Rulemaking project, the transition from old growth to a predominantly young growth harvest on the Tongass National Forest, maintaining a sustainable timber program, and being more responsive with our customer service.
What would you do (for a career) if you weren't doing this?
I can't imagine doing anything other than being Alaska's Regional Forester. I'm living the dream!