Meet a Forester, Cal Joyner
Meet a Forester, Cal Joyner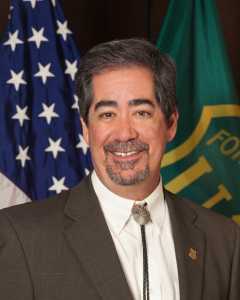 This month, we are pleased to feature Cal Joyner, Regional Forester, Southwestern Region USDA Forest Service. 
What was your first position in the field of forestry?
Hydrologist on the Waldport Ranger District, Siuslaw National Forest on the Oregon coast.
How long have you been in your role?
Almost 4½ years.
What do you enjoy most about being a WFLC member?
When WFLC is together, we represent the entire western forested landscape—private, state, and federal.  That is a powerful coalition to bring to bear on resource management opportunities and issues.
What do you see to be the emerging issues in your region?
In the Southwest, it's all about water and fire.  Forests are the source of water for the ever-growing, big desert cities. Risk of fire damaging critical watersheds and harming human communities is a relentlessly growing problem given the changing climate.
What is your favorite hobby?  
Herpetology
What is your favorite tree?  
Douglas Fir
What is your favorite outdoor activity?  
Hiking
What would you do (for a career) if you weren't doing this?
Zoology professor w/emphasis on herpetology