Meet a Forester, Brian Ferebee
Meet a Forester, Brian Ferebee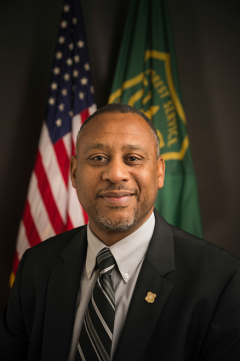 This month, we are pleased to feature Brian Ferebee, Regional Forester for the USDA Forest Service Rocky Mountain Region and the 2017-2018 WFLC Incoming Co-Lead.  
What was your first position in the field of forestry?
The first position that I held was on the Emmett Ranger District, where I worked as a wildlife biologist on a number of timber projects, as well as trails and wildlife projects.
How long have you been in your role?
I've been in my current role as Regional Forester of the Rocky Mountain Region for a year and a half. A few years prior, I was Deputy Regional Forester for the Rocky Mountain Region.
What do I enjoy most about being a WFLC member?
Since becoming a member of WFLC, I have enjoyed learning so much about what is going on out West between State Foresters and Forest Service Regions to address the needs of the nation's forest with respect to forest health. I've also enjoyed building relationships with the State Foresters and the sincere desire to work together.
What do you see as an emerging issue in the region?
One of the major issues we are facing in the Region is really a national issue. As our ability erodes to deliver mission critical work because of our agency fire suppression funding situation, it gets continually more challenging to increase efforts we would like in other priority areas, such as restoring, creating and maintaining resilient landscapes. Given that, I'm really appreciative of the support from private sector, State government and Congressional partners attempting to find a fix to the fire funding situation.
What is your favorite hobby?
I enjoy working with wood to build a variety of things such as turning bowl on a wood lathe, or refinishing rooms around our home, or adding additions to our home.
What is your favorite tree?
Aspen. I love the fall colors they provide as well as the productive ecosystem they create for a variety of wildlife.
What is your favorite outdoor activity?
My favorite outdoor activity is hunting. I enjoy getting out in the woods to chase a variety of wildlife. It's more about the experience of being in the woods, listening to them come alive as dawn breaks and patterning the movements of wildlife than in any harvest I may get.
What would you be doing if you weren't doing this? 
I really don't know. A lot of things come to mind, but it would likely involve the outdoors, wildlife conservation and habitat restoration.