Just What the Doctor Ordered…
Photo Credit: BEYOND Foundation
Just What the Doctor Ordered…
Guest post from Arizona Department of Forestry and Fire Management's Urban and Community Forestry Program in coordination with the Western Urban and Community Forestry Network's #HealthyTreesHealthyLives social media campaign. Explore the hashtag #HealthyTreesHealthyLives on social media to learn more.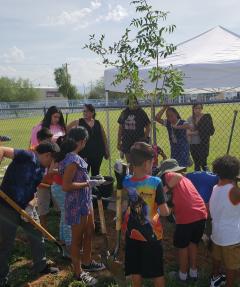 The Prescription Parks and Trails (Park Rx) project is aimed at improving the physical and mental health of individuals and communities by giving healthcare providers new tools to inspire patients to utilize parks, trails and open spaces in southern Arizona. A collaboration between healthcare providers, public land agencies, and community partners, Park Rx encourages patients to take proactive steps to improve their health and well-being by providing them with prescriptions to participate in outdoor activities. The goal of the Park Rx project is to improve the physical and mental health of individuals and communities with a focus on low income, underserved areas in Tucson, Arizona. Through community walking events, ranger-led programs, and guided hikes, Park Rx is developing into a unified integration of nature and public health.
In Southern Arizona, the Park Rx project is coordinated by the BEYOND Foundation, an organization committed to improving the health and well-being of communities. Funding for the program is provided by the AZ Department of Forestry and Fire Management.
The program offers guided weekly neighborhood walks, outdoor Zumba and yoga classes, and day trips to Saguaro National Park, Coronado National Forest and Pima County public lands. It also provides monthly Park Rx activities for youth groups involved in afterschool programs at the YMCA and County Libraries. Park Rx also partnered with the John Valenzuela Youth Camp Program to provide activities and field trips in South Tucson. These activities are arranged with a close eye on proximity to underserved and low-income populations.
Even with a doctor's order, getting outside in the summer can be a challenge. To beat the heat, early morning and Full Moon hikes were offered, which were extremely well-liked by participants. The Reid Park Zoo also partnered with Park Rx this year by offering free admission to its "Summer Safari Nights" with a doctor's prescription. The program was so popular that people were requesting prescriptions from their doctors, instead of the other way around. Several practitioners who had not previously been in the program became a partner through this public-to-doctor outreach.
The program continues to grow in scope and popularity. Just in 2018, Banner University Medical Center signed on as a new partner, bringing the number of trained health practitioners in the program to 65. A very exciting addition is the expansion of the Park Rx program into Maricopa County in Fall 2018.
To learn more, contact
John Richardson
, Program Manager with Arizona Department of Forestry and Fire Management's Urban and Community Forestry Program.
Photo Credit: BEYOND Foundation