Find People Who Need Trees the Most in Your City…And Plant Trees On Their Street!
NM Chapter of the Society of Landscape Architects
Find People Who Need Trees the Most in Your City…And Plant Trees On Their Street!
Guest post from New Mexico State Forestry, Urban and Community Forestry in coordination with the Western Urban and Community Forestry Network's #HealthyTreesHealthyLives social media campaign. Explore the hashtag #HealthyTreesHealthyLives on social media to learn more.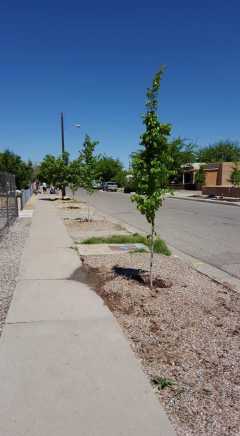 We often plant a tree and select its planting location with specific benefits in mind - energy-saving and cooling shade, habitat for birds, increasing our home's appeal and value – or a combination of all the amazing benefits a tree can provide! The new Albuquerque NeighborWoods neighborhood tree planting program is taking the selection of tree and planting locations to a whole new level in the city: strategically planting trees to improve the health of residents in neighborhoods that need the most help.
Designing urban forest canopies that effectively improve public health was the mission behind Portland State University's "Healthy Trees, Healthy People" program, funded by the USDA Forest Service
1
. The program developed the 'Trees and Health App', which uses geospatial data to find the hottest and most polluted areas in the city and its most vulnerable populations, and helps prioritize tree planting locations to maximize the positive public health impacts of new trees.
So, when City Councilor Isaac Benton was looking for an impactful neighborhood street tree planting program to improve the Albuquerque urban forest canopy, he turned to the Trees and Health app, with the assistance of a team from the NM Chapter of the American Society of Landscape Architects, the New Mexico State Forestry Urban and Community Forestry Program, and Tree New Mexico. The team uses the Trees and Health App to evaluate neighborhoods for tree planting based on the positive impacts that increased tree canopy will have on transportation-related air pollution levels and urban heat island impacts.
Once the neighborhood is selected, the Albuquerque NeighborWoods team engages neighborhood leaders in tree care training, conducting neighborhood tree and planting space inventories, and working with landscape architects to design their neighborhood's urban forest. Once the trees are planted, the neighborhood receives follow-up visits from a certified arborist as the trees get established.
To date, four communities have become Albuquerque NeighborWoods, and more than 800 trees and shrubs have been planted in these neighborhoods. The Trees and Health App models suggest that the positive impacts from trees could be huge for these neighborhoods.
The health of Albuquerque's urban forest and the people that live in it are on the mend! To learn more, please contact
Jennifer Dann
with New Mexico State Forestry, or
Sue Probart
with Tree New Mexico, and visit the Healthy Trees, Healthy People
website
.
1
www.treesandhealth.org
Photo Credit: (Right) Jennifer Dann, New Mexico State Forestry