Denver Residents Benefit from a "Cool, Connected Westwood"
Photo: Denver Parks & Recreation
Denver Residents Benefit from a "Cool, Connected Westwood"
Guest post from the Colorado State Forest Service in coordination with the Western Urban and Community Forestry Network's #HealthyTreesHealthyLives social media campaign. Explore the hashtag #HealthyTreesHealthyLives on social media to learn more.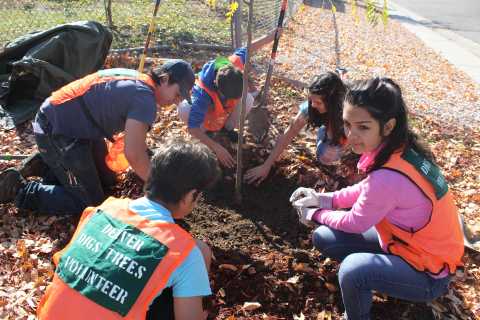 We are privileged in Colorado to have a diverse array of partners who work together to preserve, renew and enhance our community forests, which promote health and well-being in communities across the state. A couple of exciting partnerships in the Denver area involve the Colorado Tree Coalition, The Park People, The Trust for Public Land, Groundwork Denver, Westwood Unidos, University of Colorado Community Engagement Design and Research Center, and Denver Parks and Recreation.
The Colorado State Forest Service Urban & Community Forestry Program and the Colorado Tree Coalition have long supported the efforts of The Park People (TPP), including $26,500 in grant support over the years to TPP community forestry programs. TPP is a Denver non-profit that has helped plant trees in key areas of the city for 30+ years. TPP's Denver Digs Trees program helps residents cultivate greener, healthier, more livable neighborhoods and has provided more than 50,000 free and low-cost trees to Denver residents. Denver Digs Trees is a powerful example of community in action – fueled by residents and volunteers who plant and steward trees. The 50,000 trees planted through the program represent more than $52.3 million in community benefits.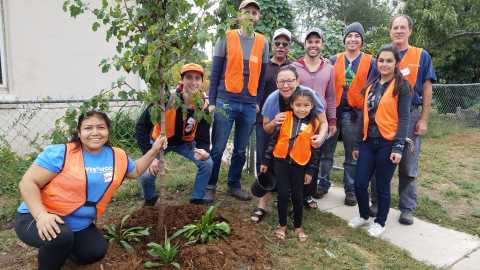 The Park People is a part of another partnership supporting healthy trees and healthy lives: the Cool Connected Westwood project is a coalition of organizations active in the Westwood neighborhood of southwest Denver. Westwood is faced with economic and environmental challenges, including one of the city's highest poverty rates and historically limited access to parks and tree canopy cover. Westwood is also a place of strong cultural identity (both Latino and Vietnamese) and home to vibrant community organizing.
During summer 2017, partners engaged in a neighborhood-based, green infrastructure pilot project. The project focused on tree planting and incorporated youth job training, community science, and innovative approaches for resident engagement.
By autumn's end, 245 new trees stood tall in Westwood. These trees will beautify the neighborhood, improve walkability, build neighborhood pride, and foster a sense of safety. They will also increase the neighborhood's climate resilience as they grow, intercept precipitation and slow the movement of water to reduce flooding during storm events; and help cool individual homes and the neighborhood at large, helping to moderate temperatures and reduce heat-related illness and death.
Every community deserves to have a healthy forest, and we're proud of organizations and individuals working to support trees in Colorado, throughout the country, and across the world.
To learn more, please contact
Keith Wood
with the Colorado State Forest Service and
Kim Yuan-Farrell
 with The Park People.
Photo credit: The Park People (right)