Community Trees: A Wealth of Health
Community Trees: A Wealth of Health
The 2020 Weste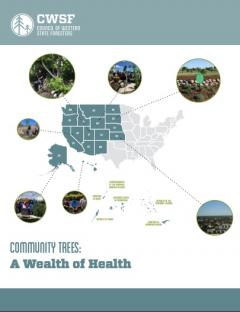 rn Urban and Community Forestry publication, Community Trees: A Wealth of Health, is out now!
2020 was a challenging year as the coronavirus pandemic swept across the country, but "stay at home" orders had at least one silver lining. They highlighted the value of urban and community trees, trees that could be seen from windows and on short walks around the block. This publication builds on the interest in urban and community forestry and public health by featuring stories from across the West that highlight this intersection. From a virtual running race in Alaska to community tree plantings in Wyoming, these stories explore a broad range of the health benefits of urban and community forestry to people and communities throughout the West.
To download the publication, please click here or visit the CWSF publication library.