Boise, Idaho's City of Trees Challenge Builds a Healthier & More Resilient Future
City of Boise and Guy Hand
Boise, Idaho's City of Trees Challenge Builds a Healthier & More Resilient Future
Guest post from Michael Beaudoin with Idaho Department of Lands in coordination with the Western Urban and Community Forestry Network's #HealthyTreesHealthyLives social media campaign.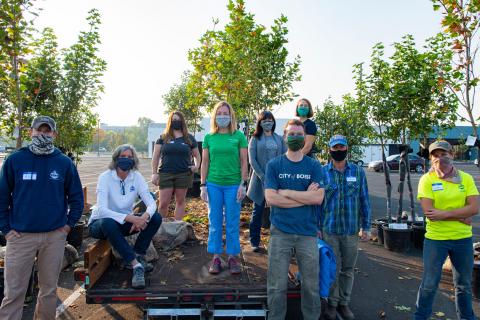 On Arbor Day 2020, the City of Boise, Treasure Valley Canopy Network, and Nature Conservancy in Idaho launched a ten-year Challenge to plant 100,000 trees in the city (one tree for every household) and 235,000 seedlings across Idaho forests (one seedling for every resident). The City of Trees Challenge is engaging residents to build a more resilient environment, community, and local economy in the face of a changing climate and the global COVID-19 pandemic.
The Challenge is using urban tree canopy data produced by the Treasure Valley Canopy Network (Canopy Network) in partnership with Plan-It Geo and Idaho Department of Lands (IDL) as part of a USDA Forest Landscape Scale Restoration (LSR) project in 2011. This data is being combined with urban heat and demographic data to strategically target Challenge tree plantings in areas of greatest need for environmental quality, equity, and human health. IDL works closely with the Canopy Network and partner organizations across Idaho to secure funding and provide technical assistance to advance strategic investments in community tree canopy.
The impact of COVID-19 on our local community and across the world has impacted not only our health but cut swift and deep on the future of our economy. Long before these times, we were aware of the local and global climate impacts of our growing population and carbon emissions. Most of us intrinsically knew the value of trees in our communities. As we have spent more time near our homes, many have come to value our tree canopy and the benefits to our neighborhoods even more. Recovery may not be as swift as the onset of this health emergency, but we believe that grassroots tree planting and long-term investments in the health of our community trees can provide a pathway and long-term solution to economic recovery and climate resiliency.
The City of Trees Challenge has grown strong roots in 2020. This past Spring, Boise was recognized as an Arbor Day Foundation / UN FAO Tree City of the World, and in Summer 2020 the City and Canopy Network joined the US Chapter of 1t.org with a trillion trees pledge to plant 335,000 trees by 2030. In 2021, Boise and the Canopy Network will challenge other communities in Idaho and across the US to join in this effort. If your state or city are interested in joining, visit www.cityoftreeschallenge.org.
Photo Credit: City of Boise and Guy Hand