Are New Mexico's Community Forests... Haunted?
Photo Credit: Jennifer Dann
Are New Mexico's Community Forests... Haunted?
Guest post from Jennifer Dann with New Mexico State Forestry in coordination with the Western Urban and Community Forestry Network's #HealthyTreesHealthyLives social media campaign. Explore the hashtag #HealthyTreesHealthyLives on social media to learn more. 
The last of the brightly colored autumn leaves flutter in the cold wind and whirl in the streets.  Silhouettes of craggy trees are carved into jack-o'-lanterns. It's Halloween! Is that a ghost behind that tree?
A few "ghosts" were discovered when a history of New Mexico's community forest was compiled as part of a larger US Forest Service Landscape Scale Restoration (LSR) urban forest assessment project. The history was completed to help document the significance of non-native trees in the cultural landscape of New Mexico, including trees brought in on the Camino Real and Santa Fe Trail, the rapid influx of trees carried in on the railroad, and the planting of hundreds of thousands of shade trees during the New Deal era. The history provided important lessons that are relevant to today's urban forest management planning but also turned up many interesting and formative characters.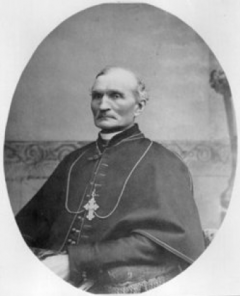 A few examples: 
Archbishop Jean Baptiste Lamy was the first person documented to have imported landscape trees to New Mexico.  On one trip across the Santa Fe Trail in the 1850s, he carried horse chestnuts in a pail of water, and brought over 100 elm saplings. He cultivated shade trees and shared them with Santa Fe residents to "…demonstrate what could be done to bring the graces and comforts of the earth to a land largely barren, rocky, and dry."  Archbishop Lamy is buried in the sanctuary floor of St. Francis Cathedral in Santa Fe, and the tree species he imported can still be found today.
Dr. L.E. Kittrell, a dentist, was instrumental in establishing the landscaping and trees in the central plaza of Socorro in the 1880s. Historical documentation indicates that Dr. Kittrell was buried within the plaza he helped to create. There is no marked grave there, but the plaza's towering shade trees still offer visitors a cool oasis.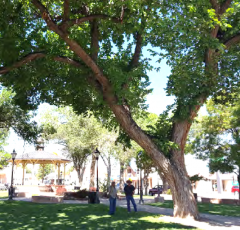 Arthur Manby, who likely made it to New Mexico on the railroad, has a 1929 gravestone in Taos' Kit Carson Park that reads, "He planted the trees in this park and on Pueblo Road". One of those trees, or at least a close neighbor, is the current national Big Tree champion willow, towering over 110 feet. 
The spirit of these and other pioneering New Mexico arborists can certainly still be felt in New Mexico's current landscapes. The trees they worked so hard to establish transformed the state and contribute to our healthy communities of today.
Groundwork Studio was the lead consultant for the LSR project. The history and other outcomes can be found on the project's GIS
Storymap
. For more information, please contact Jennifer Dann, New Mexico State Forestry, at 
jenniferl.dann@state.nm.us
 or (505) 345-2200.