Restoring the Health of Portland's Greater Forest Park Region Benefits City Residents
Michael Ahr, West Multnomah Soil and Water Conservation District
Restoring the Health of Portland's Greater Forest Park Region Benefits City Residents
Guest post from Oregon Department of Forestry in coordination with the Western Urban and Community Forestry Network's #HealthyTreesHealthyLives social media campaign. Explore the hashtag #HealthyTreesHealthyLives on social media to learn more.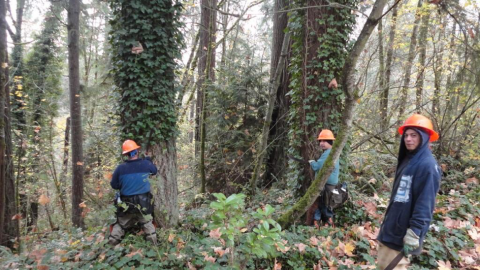 Near the heart of downtown Portland Oregon lies a regional ecological treasure: the Greater Forest Park Ecosystem, which comprises the 5,200 acre Forest Park, over 1,100 acres of adjacent natural areas owned by public and non-profit organizations, and over 8,600 acres of private land. These 15,000 acres provide critical ecosystem services to a growing urban population. However, the long-term ecological health of this landscape is threatened due to invasive plants, habitat loss, and fragmentation due to urban growth. Left unabated, these threats will severely undermine the health of the entire ecosystem, leading to deteriorating air and water quality for Portland-area residents, increased wildfire risk, and less productive forests.   
The Greater Forest Park Ecological Restoration Project, funded through a 2016 USDA Forest Service Landscape Scale Restoration (LSR) grant to the Oregon Department of Forestry's Urban and Community Assistance Program (ODF-U&CF), engages Portland area residents and landowners, along with the Forest Park Conservancy, West Multnomah Soil and Water Conservation Service, and the City of Portland in restoration activities within the project area. Because it crosses multiple jurisdictions (private, public, non-profit) and multiple subject areas (forest health, stewardship, fire, urban forestry), it is truly a landscape scale collaboration. This multi-jurisdictional strategy is among the first of its kind in the Portland Metro region that has catalyzed partner collaboration and coordination with non-profit, local, state and federal partners that are dedicated to conserving important regional habitats.
Under the guidance of the project partner organizations and ODF-U&CF, Portland residents are removing ivy off of thousands of trees, eliminating other invasive species and planting native fire-resistant plants, expanding their backyard wildlife habitats, developing conservation goals, and planning and thinning their adjacent property to decrease the risk of wildfire. In the short- and long term, these activities improve the lives of the active participants and adjacent residents, and those of the millions of people and animals, who use and live in the Greater Forest Park Area.
Working together in a collaborative environment with attention and resources to bear on a strategically important ecosystem, greatly increases the collective impact and builds awareness around issues that face our urban forests. This work will also provide efficient use of resources, allowing each partner to accomplish more by working together than any of them could accomplish on its own.
For more information, please contact
Kristin Ramstad
, Oregon Department of Forestry Urban and Community Forestry Program Manager.
Photo Credit: Michael Ahr, West Multnomah Soil and Water Conservation District