E ʻimi i ke ola ma waho. Seek life outside.
Photo Credit: Sara Goodwin
E ʻimi i ke ola ma waho. Seek life outside.
Guest post from Jade Rhodes with the State of Hawai'i's Division of Forestry in coordination with the Western Urban and Community Forestry Network's #HealthyTreesHealthyLives social media campaign. Explore the hashtag #HealthyTreesHealthyLives on social media to learn more.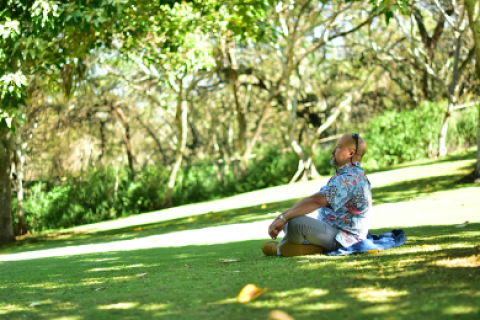 E ʻimi i ke ola ma waho. Seek life outside.​
The traditional proverb (ʻōlelo noʻeau in Hawaiian) above expresses a timely and timeless reminder for us, especially given our current context. The State of Hawaiʻi Division of Forestry & Wildlife's Urban and Community Forestry program, "Kaulunani" (Hawaiian for 'the beautiful growth'), highlights the important relationship between public health and the forests all around us: trees near our homes, along the street, and on trails.
The health of nature and our own wellbeing go hand in hand. Kaulunani is working with partners, such as the Hawaiʻi Department of Health and community-based non-profits, to work toward our shared goals of increasing our tree canopy in pedestrian walkways, bikeways, neighborhoods, and parks. Research demonstrates that trees provide our communities shade, reduce ambient temperatures,[1]remove harmful pollutants from our air,[2] boost our immune systems,[3] improve mental health,[4] and enrich our lives.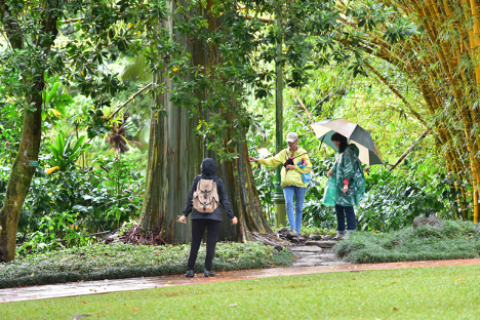 In an effort to communicate the message of "Healthy Trees, Healthy Lives," Kaulunani has partnered with Blue Zones and Forest Bathing Hawaiʻi to foster the connection between wellbeing and nature with Green Walks across the islands of Oʻahu, Hawaiʻi, Kauaʻi, and Maui. The concept of Green Walks has been revered for its calming and restorative benefits and is rooted in the Japanese practice of shinrin- yoku or "forest bathing." Green Walks combine elements of mindfulness and reverence for nature, and they are suitable for all age groups. Research shows that the practice lowers blood pressure and stress, boosts immune functions, increases focus, clarity, and creativity.[5]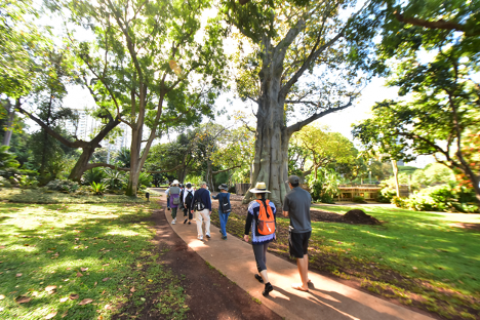 In rain and shine, community members from youth to elders, from tree enthusiasts to those new to appreciating trees, from locals to visitors alike, participated in our guided Green Walks. They met in settings such as botanical gardens, arboretums, and natural galleries and commented that they left the experience feeling better, renewed, and grounded.  During these times, caring for ourselves includes social distancing as well as taking time to connect with trees and greens spaces. We encourage everyone to #GetSocialWithNature to celebrate our community trees and their contributions to our health.
---