Creating a "Wellness Ecosystem" in the Middle Rio Grande Valley
Photo Credit: Jennifer Dann
Creating a "Wellness Ecosystem" in the Middle Rio Grande Valley
Guest post from New Mexico State Forestry in coordination with the Western Urban and Community Forestry Network's #HealthyTreesHealthyLives social media campaign. Explore the hashtag #HealthyTreesHealthyLives on social media to learn more. 
Imagine creating a "wellness ecosystem" that supports your health through all aspects and phases of your life. A place where you could safely take a walk; purchase fresh locally-grown produce; gather with other community members to share and learn; and reconnect with your food and the natural environment.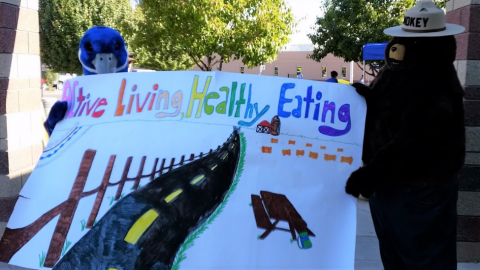 A "wellness ecosystem" is exactly what First Choice Community Healthcare in Albuquerque's South Valley set out to create for their patients and the South Valley community. In addition to providing traditional healthcare services, they envisioned a place that eliminates health and wellness inequity in their underserved community by addressing social determinants. They embarked on creating the 10-acre Health and Wellness Campus at the South Valley Community Commons, that will include a four-acre farm and food hub, a Health Leadership High School, an early childhood development center, and a wellness center, all connected by walking trails. These will strengthen and expand their active living and healthy eating initiatives, including prescription trails, "walk with a doc", farmers markets, and healthy cooking classes.
The Commons property includes a 2-acre stormwater retention facility managed by the County, and the initiative was introduced to the Middle Rio Grande/Albuquerque Urban Waters Federal Partnership. The Partnership reconnects urban communities with the Rio Grande by improving coordination among federal agencies and collaborating with community-led revitalization efforts. The South Valley Community Commons initiative was a great match for the Partnership, and the connection has led to a wide-ranging set of collaborations. The US Fish and Wildlife Service is establishing a satellite to its Valle de Oro National Urban Wildlife Refuge at the site. The US Geologic Survey New Mexico Water Science Center began collecting water quality data at the site in 20181, and will continue through 2020 to establish a baseline status of water resources and to characterize water quality prior to and during restoration activities at the site.
The US Forest Service is also a Federal partner, and community trees needed to be included in this wellness ecosystem! A community forestry assistance grant was issued through New Mexico State Forestry to incorporate community forestry into the site plans. A tree and shrub-lined walking path will provide a safe space for community members to walk. Native riparian species once common to this neighborhood will be reintroduced to help with stormwater management and wildlife habitat. Fruit trees will be planted to support the farm and food hub.
#HealthyTreesHealthyLives is excited to be part of this wellness ecosystem, where people and their surrounding natural resources support each other's health!
To learn more, contact Jennifer Dann, Urban and Community Forestry Program Coordinator with New Mexico State Forestry at (505) 345-2200; Dr. Jesse Barnes, Director of Health and Wellness with First Choice Community Healthcare at (505) 873-7400 ext. 7429; or Ariel De La Rosa, The Nature Conservancy Americorps VISTA Steward with Middle Rio Grande Urban Waters Federal Partnership at (505) 365-2043.
1USGS data collected at the site: https://waterdata.usgs.gov/nwis/inventory?agency_code=USGS&site_no=350249106404810.
Photo Credit Right: Jennifer Dann